Graduate Schools of the KIT Climate and Environment Center
GRACE
GRACE is a graduate school for post-graduates of the KIT Climate and Environment Center. In cooperation with the Technical University of Darmstadt and the ESADE Business School, Barcelona, GRACE is aimed at supplying post-graduate students with specific and interdisciplinary knowledge as well as with key qualifications. In this way, Ph. D. students will be prepared optimally for their later career in science, industry, or an own enterprise. Apart from analysis and problem solution competence, international networking and dissemination of business-relevant contents are supported. Among others, stays abroad, summer schools, or a block course for executives at the ESADE Business School, Barcelona, are funded.
For more information see the GRACE Website

MICMoR
The new Helmholtz Research School MICMoR is a Graduate Research Programme on Mechanisms and Interactions of Climate Change in Mountain Regions. It is funded by the Helmholtz Association, hosted by KIT/IMK-IFU in Garmisch-Partenkirchen and about to start January 1, 2012.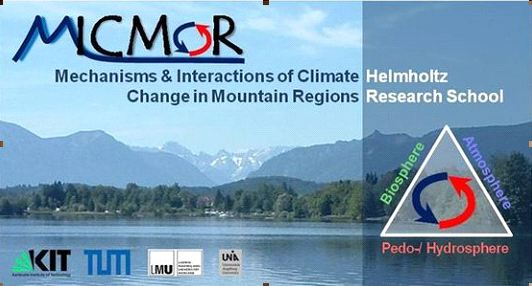 For MICMoR's Graduate Programme scientists from KIT/IMK-IFU and its partner institutions (TUM, LMU, University of Augsburg, University of Würzburg, University of Bayreuth, DLR, HMGU) have joined forces. Research is directed to the consequences of climate change for biosphere, atmosphere and pedo-/hydrosphere processes, and our vision is to train a new generation of outstanding young scientists to navigate successfully in collaborative climate change research. MICMoR's graduate programme offers training in scientific and methodic skills, professional preparation and international exchange and collaboration. PhD students can apply for this programme, however, MICMoR is a supplemental support programme; it will not fund basic personal stipends.
For more information see the MICMoR Website