KIT Environment Lecture 2012
first KIT Environment Lecture will take place on Tuesday, 15th May 2012, 6 pm at Gartensaal at Schloss Karlsruhe
We would like to invite you to attend the Lecture and the Reception. Thank you very much for your registration until 7th May 2012 via E-mail lecture ∂does-not-exist.klima-umwelt kit edu .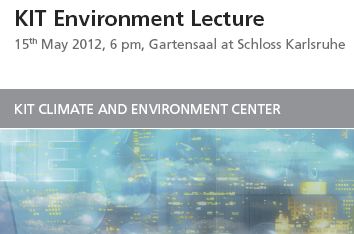 Professor Susan Stipp, University of Copenhagen, will talk about "Cleaner water, less CO2 and putting out the garbage".

Please check out the flyer (pdf) for further information.

Lookink forward to welcoming you.